If you do NOT have AMP's MetaTrader 5 installed, Please Click to Download & Creating Demo Login

before

installing StereoTrader.
#1 - Install MetaTrader 5
Before you can setup StereoTrader, please download and install MetaTrader first. If MetaTrader is already installed on your system, please proceed to step #2.
#2 - Install StereoTrader
StereoTrader comes with an installation manager which handles the setup process of the Interface itself but also all add-ons of official partners. Please download and execute it.
#3 - Setup StereoTrader
Follow the instructions of the installation manager.
When the product selection comes up, select your host platform first (MetaTrader 5 – depending on your account type)
Select your StereoTrader "Classic" edition

Enter "AMP" for the License code



Got to the next page and choose your destination, it should be something like "C:/Users/AppData/…"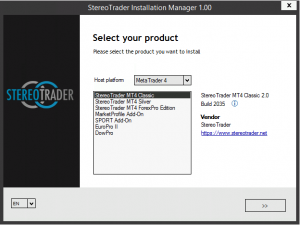 #4 - Run MetaTrader
From now on, as soon as you open a new chart, StereoTrader should appear automatically.
#5 - Got Trouble? Common FAQ
If StereoTrader does not start when you open a new chart or when you drag it from the Navigator on a chart, you need to verify your general settings of MetaTrader. Please go to the menu and select Tools->Options and then you choose the tab Expert Advisors. The settings should be:
Allow automated trading (ON)
3x Disable automated trading … (All OFF)
Allow DLL imports (ON)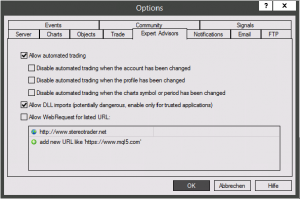 From now on, the button AutoTrading below the menu of MetaTrader should always be on automatically. If it's turned off, please switch it on.

Watch StereoTrader - MetaTrader 5 (MT5) - Comprehensive Overview - Video Series - Getting Started Videos >>